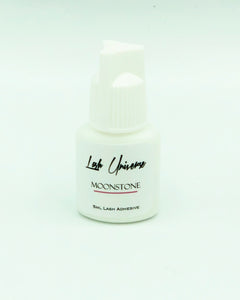 Moonstone  
This professional Lash Adhesive is fast drying, specially formulated for sensitive eyes. Doesn't contain black carbon and it makes lashing sensitive clients such a easy task to complete. Curing time remains between 1-2 seconds and the retention is unbelievable. Lashing with this adhesive is game changer!
 Specification:
Dry Time: 2 seconds
Viscosity: Thin
Color: Clear
Optimal humidity: 30%-60%
Hold Time: Up to 5 weeks
Fumes: Medium
Storage:
For the best preservation of the adhesive, once opened, keep the adhesive in an air tight container. To keep the moisture off, place inside of the container dry rice or a few silica pack. Maintain the container in room temperature and keep it away from sunlight. Shake the adhesive for 1 min before each use.  
DO NOT place in the fridge.
Shelf Life:
Unopened bottles have 6 months shelf life.
Opened bottles should be replaced every 4 to 6 weeks or when the adhesive changes the viscosity, becoming sticky or gummy. 
Disclaimer:Due to the fact that we cannot control the environment once our Adhesive leaves our warehouse there will be no returns accepted for all adhesives.
5ml/0.16 fl. oz